Helipad FATO Lights (Portable 6 Pack - White)
S4GA introduces portable airfield lighting kit (PALK) for runways and helipads. The product itself is reliable and complies with ICAO Annex 14 and FAA technical requirements.
£3,751.00
(
£3,125.83
)
This autonomous and certified lighting is designed to start night operations practically anywhere.
The basic element of PALK rigid SP-102 lighting unit.
This product includes:
1 pc Protective casing with shock absorbent foam
6 pcs SP-102 TLOF Lights
6 pcs Mounting stakes for grass
1 pc OCT-102 Charging Station


6 Pcs mounting stakes for Concrete (Optional Extra)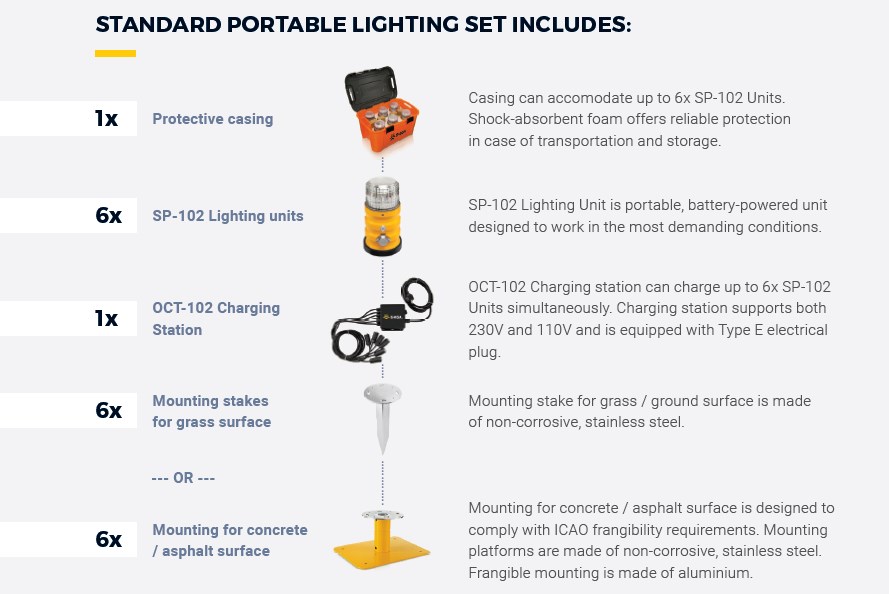 PALK is designed to illuminate helipads in compliance with International Civil Aviation Organization(ICAO)
SP-102 lighting unit key features
Adjustable intensity level (Low/medium/high intensity)
Multiple operating modes
Quick & Easy Deployment
Non-Corrosive aluminium body
IP-65 waterproof rating
user-replaceable battery
Interchangeable optical head
Optional mounting stake allows to easily fix SP-102 ubit to any tyoe of surface (including tarmac, grass,asphalt or concrete). Durable mounting stake is made of high-quality non-corrosive, galvanized stainless steel. Mouting for concreate complies with ICOA frangibility requirements.
PALK can be easily turned into semi-permanent system by upgrading it to 100% automomous Solar-Powered Version.