Ambersil Multi-Surface Decontamination Spray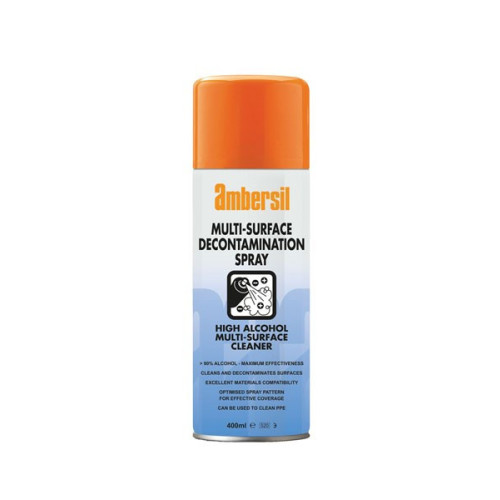 Ambersil Multi-Surface Decontamination Spray
Ambersil Multi-Surface Decontamination Spray is a versatile, industrial grade, extremely high alcohol content spray (>90% alcohol) which removes germs and viruses from hard surfaces.
(
RRP
£5.72
Save 7%
)
From
£5.33
(
£4.44
)
With excellent material compatibility, Ambersil Multi-Surface Decontamination Spray can be used on high touch-point surfaces, to quickly remove dirt, grime and more, leaving the surface residue free, with no water rinse required.
The spray offers a ready to use solution that does not require mixing or decanting, especially useful off-site when away from washroom facilities. The optimised spray pattern guarantees consistent results, evaporating quickly to leave a clean and residue-free surface.
APPLICATIONS:
PROFESSIONAL
• Use as a pre- and post-work area hygiene cleaner
• Keep aircraft/vehicle interiors clean: controls/steering wheel, buttons, door handles, seats & switches
• Decontaminates mask strap & safety hat fitting harness (apply to cloth & wipe)
INDUSTRIAL ENGINEERING
• Forklift truck & warehouse manual handling equipment decontamination
• Production line controls (not touch screens)
• Keeps tools & work stations clean
OFFICE
• Use on door handles, light switches, and other hightouch point surfaces, it is particularly important to test compatibility with some upvc coloured doors
• Decontaminate parcels and deliveries
• Workplace shared spaces: canteens (non-food surfaces), corridors, doors, & rest-rooms
TECHNICAL DATA (WITHOUT PROPELLANT):
Appearance: Transparent
Odour: Alcohol
Alcohol Purity (IPA): >99%
Conforms to Standards (IPA): BS 1595, ASTM D770 and DIN 53245
STORAGE AND SHELF LIFE:
The product may be stored at normal ambient temperatures and has a shelf life of not less than 6 years with correct storage. Aerosols should always be stored below 50°C, away from direct heat and naked flame.