Concorde Battery RG-35AXC 12v 33AH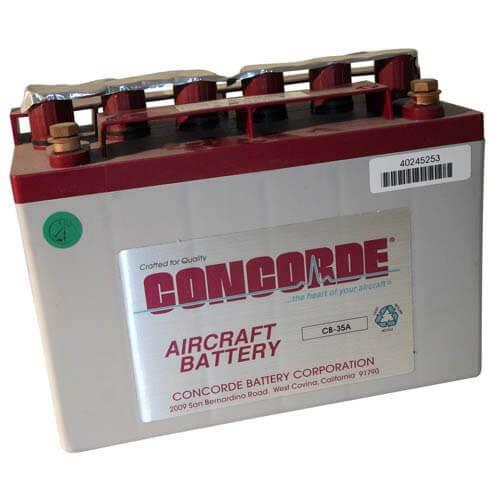 Concorde Battery RG-35AXC 12v 33AH
The RG-35AXC is a Concorde Platinum Series Aircraft Battery. The Platinum Series is comprised of premium hand made AGM Aircraft Batteries with excess power for many applications.
£362.50
Concorde Aircraft batteries are prefered over other brands by the majority of the world's Airforces and many aircraft manufacturers.
Recombinant Gas - The RG Series are low resistance, valve regulated lead acid (VRLA) batteries.
Superior starting power
Reliable essential power in the event of a generator failure
Low impedance design
Battery is constructed with non removable vent valves
No addition of electrolyte or water ever required for this maintenance free aircraft battery.
Aerobatic Batteries: This is a non spillable battery at any altitude or attitude
Factory tested to assure airworthiness
Shipped fully charged and ready to install
AGM Battery: Manufactured with absorbed glass mat separators
RG Series batteries ship non-HAZMAT
RG-35AXC Battery Specifications:
Primary Aircraft Purpose
General Aviation AGM Aircraft Battery
Voltage
12v
Rated Capacity C1 = 1 hr.
rate in ampere hours
33.00
Cold Cranking Amps
440.0
Max Weight
32.00 lb / 14.5 kg

Concorde Battery
Part Number
Ipr
Ipp
Ipr
Ipp
Ipr
Ipp
23°C (74°F)
-18°C (0°F)
-30°C (-22°F)
A
A
A
A
A
A
RG-35AXC
900
1200
700
800
550
625
NOTE: This aircraft battery is not designed or intended for turbine aircraft engine starting applications. Warranty coverage applies to reciprocating aircraft engine starting, and standby / essential power installations.
Supplied with a 8130-3 Authorised Release Certificate