Scratch off polishing kit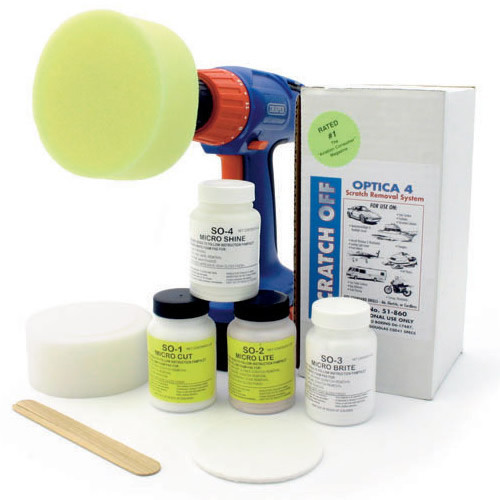 Scratch off polishing kit
Scratch-Off Acrylic Window Scratch Removal Kit is a precision surface restoration system for aircraft windshields, side windows and landing light lens covers.
£71.88
Developed for the Aerospace industry in 1994, Scratch-Off has been hard at work restoring optical clarity to aircraft windows and windshields. Damage to aircraft windows is more than a cosmetic challenge, it can compromise flight safety by limiting your ability to see traffic or even the destination airport. Throw in a little rain or window fog and visibility is often worse. Plexiglas aircraft windshields and windows are also subject to stains and etching from environmental pollution, acid rain, pitting from prop blast, and discoloration from sustained UV exposure. When turning, climbing or descending, the sun can hit the pilot at such as angle that every infraction, every defect, every scratch is amplified and glaring at them at eye level. These defects are distracting at best and can be a safety issue especially during dawn and dusk take-offs and landings.
The Scratch Off system uses four grades of increasingly finer liquid abrasive compounds and two different grades of foam polishing pads which are attached to a backing plate for use on a power drill. Using your cordless or electric drill (not included), this kit will allow you to make scratched, stained and pitted acrylic (and clear vinyl) windows visually clear again, usually in less than an hour! Hand applied products often take two much time and require too much elbow grease to finish the repair. Scratch off is a power assisted product which is faster and works more evenly. The easy scratch/defect removal system walks you through a thorough step by step process.
Kit comes with abrasives, polish, four inch foam cutting pad for removal of deep imperfections, four inch foam polishing pad for high gloss polishing and swirl mark removal and Velcro drill adapter attachment. This is enough product to restore clarity to 30 to 50 sq. ft. of surface area. Not recommended for use on pressurized aircraft.
Estimated Time: Each step requires polishing for about 3 minutes per 1 sq. ft. of surface area. Restoring an aircraft or boat windshield will take about an hour.