RED BOX Twin RB50A 26V 58amps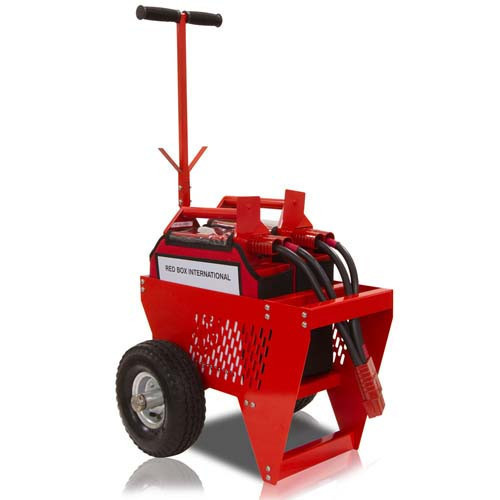 RED BOX Twin RB50A 26V 58amps
This trolley mounted twin RB50A portable battery start unit from Red Box is is designed to start Turboprop or turbine aircraft in the field. The design utilizes the latest technology to achieve a high power to weight ratio.
£3,170.00
The Red Box power packs are all weather units able to operate in extremes of temperature, maintenance free and are cleared as non hazardous cargo for carriage in aircraft. System includes 2x RB50A portable power unit, multistage charger, cables with aircraft connectors and trolley.
The TWIN Red Box RB50A is Suitable for the following Aircraft: Beechcraft Premier 1, Bell 412 (Twin Pack Engine), Bell 412EP (Twin Pack Engine), Bell 412HP (Twin Pack Engine), Bell 412SP(Twin Pack Engine), Bell AH-1 Cobra, Cessna Citation Bravo, Cessna Citation Bravo 550, Cessna Citation CJ2, Cessna Citation SII S550, DeHavilland CC-138 Twin Otter, DeHavilland DHC-6-100, DeHavilland DHC-6-200, DeHavilland DHC-6-300, Eurocopter SA330 Puma, Fairchild C-26 Metroliner, Learjet 45, LET L-410, Mitsubishi MU-2, Sikorsky S-61, Sikorsky S-62, Sikorsky S62C
Totally weather protected.
Air transportable, 'Non Hazardous'
Maintenance free.
Tough and compact.
No memory effect.
Works in any orientation.
High charge retention.
Long shelf life.
Fast recharge.
No cycling.
Leak proof.
Cells replaceable on condition.
Heavy duty engine starting of turbo prop, turbine, aircraft and helicopters.
Starts Tanks
Aux. power units.
Lightweight portable start power at remote locations.
Weight: 58kg
Dimensions: 2 x L348 W105 H380 mm
Write a Review
You must have purchased this product to review it.
Write a Review