David Clark H3312 Headset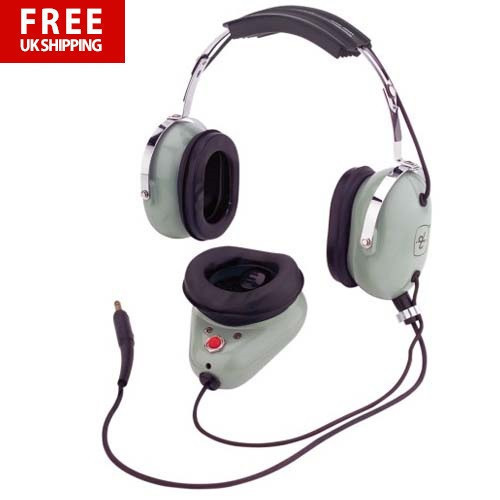 David Clark H3312 Headset
Featuring an M-D/C noise-cancelling dynamic, amplified microphone and plenty of other high-tech specs, the David Clark H3312 Headset (12515G-12) is a fine choice for aviators facing loud background noise.
£439.00
Enjoy clear audio with a certified noise reduction rating of 26 dB. It comes standard with a push-to-talk microphone that allows the unit to hang freely for easy access and hands-free communication with ground support. It's also designed for exceptional comfort on long flights, with a soft head pad and ear seals that eliminate painful pressure. If you're looking for a versatile David Clark headset, H3312 is a great choice: it features a 25-foot straight cord that allows you to move around plus a chrome-plated, corrosion-proof design for long-term performance.
Looking for state-of-the-art headphones that will perform while providing incredible comfort? This headset's low price will challenge any competitor. The H3312 aviation headset includes an M-1/DC amplified microphone with noise cancelling capabilities. Reduce background noise and increase efficiency with this great Push-to-Talk microphone, designed to hang freely for easy access. For maximum comfort, this headset features a soft head pad and ear seals which rest gently and eliminate painful pressure, even on long flights. Equipped with a 25 foot straight cord, you will have room to move within the cockpit without removing your headset. Don't worry about damaging your headset ? it's chrome-plated for a corrosion-proof design. This headset is fashionable and practical, designed to withstand wear and tear while providing your cockpit with the connectivity and safety it needs. Our noise cancelling aviation headsets will help any pilot communicate freely, without static, hassle and background noise.
Features:
M-1/DC Noise Cancelling Amplified Dynamic Microphone.
Noise Shielded Microphone(Muff) with Momentary PTT (Push-to-Talk) switch, hangs freely ready for periodic use.
Soft Head pad and Ear Seals guarantee exceptional comfort.
25 foot straight cord with (PJ-051) Plug to mate with Series C31-XX Extension Cords.
Corrosion-proof, chrome plated Headset/Stirrup Assembly.
Certified Noise Reduction Rating of 26 dB.