Skyox Portable Oxygen 15 Cubic Ft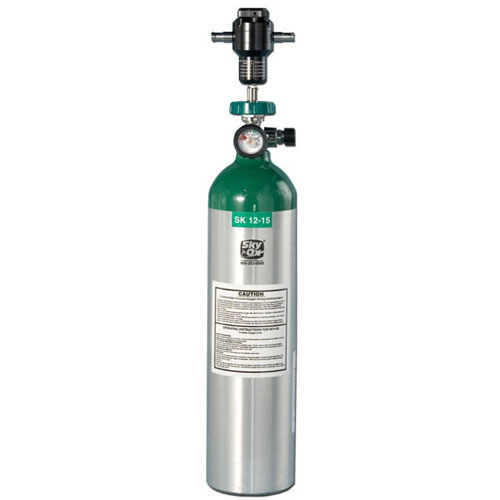 Skyox Portable Oxygen 15 Cubic Ft
This Fifteen Cubic Foot aviation oxygen system is a portable aluminum cylinder with no installation required. It's easy to use and has no FAA weight and balance change necessary.
£690.62
(
£575.52
)
PLEASE NOTE: The website will state we are out of stock, but we usually do have the Skyox system you require and will build your requirement from stock parts. Please call or email for details.
The adjustable flow regulator allows you to set by altitude or special flow. As you change altitude, adjust the flow control valve for more or less oxygen (the upper gauge shows altitude and flow setting, the lower gauge shows remaining cylinder pressure). Note that the SK 12-15 oxygen flow does not have to be adjusted if using more than one outlet. You can easily check the charts provided with cannulas for proper flow setting. This oxygen system has an oxymizer cannula which reduces oxygen usage by over 50%, when compared to others on the market. It can be used up to 18,000 ft, and stores oxygen in a pendant reservoir. The pendant rests on your chest, not your lip. You are free to drink a beverage and talk in total comfort

Cylinder Type Aluminium
Cylinder Capacity 15 cubic feet
Oxymizer Duration 13:48 Hours
Mask duration 4:36 Hours
Size DxL 4.38" x 24 inches
Weight 11 lb
2-Place system has (2 nasal cannulas, 1 mask)
4-Place system has (4 nasal cannulas, 1 mask)

Skyox Portable Oxygen
SkyOx offers complete, advanced systems, with all the features you need for safe, comfortable high altitude flight. The breakthrough Oxymizer conserving cannula is the comfortable and efficient way to use oxygen up to 18,000 feet. It nearly triples the duration from each bottle, storing oxygen in the pendant reservoir, so you only get oxygen when you need it. This is not the "mustache type" cannula found on other systems. Eating, drinking and talking with passengers are easy. While SkyOx systems feature advanced features and quality construction, there are no confusing electronic controls, no batteries to replace, and no multi-port valves. Just plug in, set your altitude and sit back. No matter what your needs are for an oxygen system (be it backup or everyday use), we have a size and configuration to match, in both steel and aluminum cylinders.

Hypoxia (oxygen deficiency)
Hypoxia is a more common problem than realised and is not limited to pilots of unpressurized, turbocharged or high performance aircraft. Many pilots need oxygen below the 12,500 feet specified in the FAA FARs. Flying high will result in a lower blood oxygen saturation levels, which will result initially in reduced concentration, greater fatigue, and headaches. At 14,000 ft hypoxia symptoms will include forgetfulness, incompetence, indifference, distinct impairment of mathematical and reasoning capabilities. A reduction of a pilots blood oxygen saturation below 94% is cited as the benchmark level beyond which the dangerous symptoms of hypoxia set-in. Carrying a portable oxygen system is the only way to protect against the serious and difficult to detect symptoms of hypoxia.