AeroShell Grease 64 - 400 GRAM Cartridge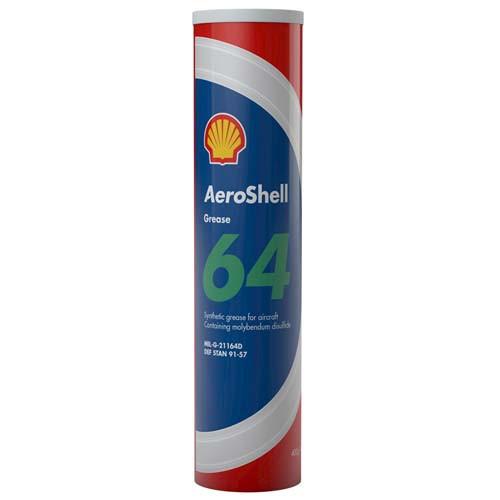 AeroShell Grease 64 - 400 GRAM Cartridge
Aeroshell Grease 64 possesses enhanced anti-wear and anti-corrosion properties and is particularly suitable for lubricating heavily loaded sliding steel surfaces, such as, bogie pivot pins on aircraft landing gear-assemblies.
£17.55
AeroShell Grease 64 is an extreme pressure (EP) grease based on the proven lithium complex technology of AeroShell Grease 33, and is fortified with 5% Molybdenum Disulphide. AeroShell Grease 64 is a direct alternative to AeroShell Grease 17, but when changing from (clay-based) ASG 17 to (Li-complex based) ASG 33MS, the normal rules on grease changing should be applied. The benefits of Grease 64 include: Improved anti-wear and corrosion resistance over AeroShell Grease 17; It is fully compatible with AeroShell Grease 33, so reduces the risks and problems associated with misapplication; Load carrying and EP properties equal to that of the well established AeroShell Grease 17; Fully approved to MIL-G-21164D.
AeroShell Grease 64 Specifications:
U.S. Approved MIL-G-21164D
British Approved DEF STAN 91-57
French Equivalent DCSEA 353/A
NATO Code G-353
Write a Review
You must have purchased this product to review it.
Write a Review