AeroShell Turbine OIL 390 - 24 x 1 US Quart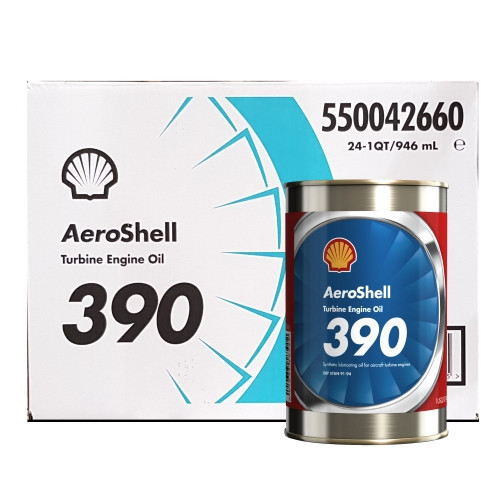 AeroShell Turbine OIL 390 - 24 x 1 US Quart
AeroShell Turbine Oil 390 was developed primarily as an improved 3 mm2/s oil for British turbo-jet engines to meet DEF STAN 91-94 but is fully approved for a wide range of turbine engines.
Re-test date for current batch: April 2022.
£375.11
£318.84
AeroShell Turbine Oil 390 is a 3 mm2/s synthetic diester oil incorporating a carefully selected and balanced combination of additives to improve thermal and oxidation stability and to increase the load carrying ability of the base oil. More recently, because of the low temperature characteristics of Turbine Oil 390, there is interest in using this oil in auxiliary power units (APU) in order to overcome the effects of cold soak. Normal practice is to shut down the APU during cruise, the APU then experiences cold soak, often prolonged, and when the unit is started there is considerable difficulty resulting in the unit not coming up to speed in the given time, thus causing a hung start.
AeroShell Turbine Oil 390 Specifications:
British Approved DEF STAN 91-94
Russian Analogue to IPM -10, VNII NP 50-1-4f and 4u, and 36Ku-A
Joint Service Designation OX-7