Concorde Battery RG24-10 24V 9AH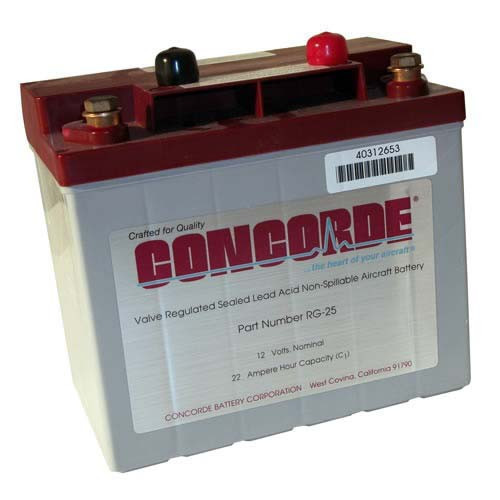 Concorde Battery RG24-10 24V 9AH
Concorde R24-10 is a General aviation battery designed for a two battery, two bus, two alternator/generator system to satisfy the requirement for a secondary system to support FADEC and/or Glass Panel installations.
£542.50
Designed to run in parallel only when cranking. These are the only batteries required in the aircraft.
Full Authority Digital Engine Control (FADEC)
Electronic Engine Control (EEC)
Electronic Flight Instrument System (EFIS) and / or
Electronic Ignition Systems
Superior starting power
Reliable essential power in the event of a generator failure
Low impedance design
Maintenance free
Constructed with non removable vent valves - no addition of electrolyte or water required
Aerobatic: Non spillable at any altitude or attitude
Factory tested to assure airworthiness
Shipped fully charged and ready to install
Manufactured with absorbed glass mat separators (AGM)
RG Series batteries ship Hazmat EXEMPT via land, sea or air
NOTE: This aircraft battery is not designed or intended for turbine aircraft engine starting applications. Warranty coverage applies to reciprocating aircraft engine starting, and standby / essential power installations.
Supplied with a 8130-3 Authorised Release Certificate
RG24-10 Premium Concorde Aircraft Battery Specifications:
Primary Aircraft Purpose
General Aviation AGM Aircraft Battery
Voltage
24v
Rated Capacity C1 = 1 hr.
rate in ampere hours
8.50
Max Weight
22.00 lb / 10.0 kg

Concorde Battery Part Number RG24-10
Ipr
Ipp
Ipr
Ipp
Ipr
Ipp
23°C (74°F)
-18°C (0°F)
-30°C (-22°F)
A
A
A
A
A
A
313
432
173
210
110
134
Write a Review
You must have purchased this product to review it.
Write a Review