HEED 3 - Helicopter Emergency Egress Device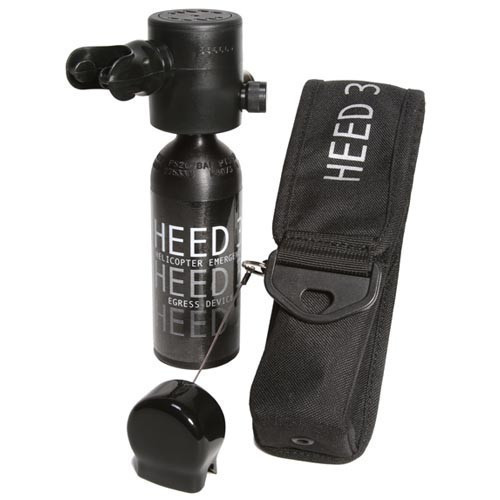 HEED 3 - Helicopter Emergency Egress Device
The Helicopter Emergency Egress Device 3 (HEED 3).
The HEED 3 is a refillable fully self contained breathing device. The included Dial Gauge displays an accurate pressure reading in increments of 200 psi. Store the HEED 3 at full pressure and refill it only if you use it. The always-on regulator is ready to deliver life-saving air in an underwater emergency or toxic air environment.
£428.71
(
£357.26
)
A compact, lightweight and reliable self contained breathing apparatus, the HEED 3 is designed to increase the survivability of aircrew in short-term out-of-air emergencies.
Provides lifesaving air needed to egress from a downed aircraft or a rolled vehicle in the water.
Ideal for all helicopters, fixed wing aircraft, float planes, watercraft and vehicles that operate around possible water emergencies.
Protects personnel from inhaling dangerous and lethal toxic fumes from fire or smoke.
Simple, compact design is less complicated to use and repair than competing models.
Always-on design is ready to deliver air when you need it.
Refillable from an air compressor or scuba tank.
Includes custom MOLLE holster to attach to a modular vest.
Specifications:
Product Length: 8.75" [22.23 cm]
Product Diameter: 2.25" [5.71 cm]
Product Weight (full): 1.51 lbs [.687 kg]
Pressure Rating: 3000 PSI [207 BAR]
Cylinder Volume: 1.7 cu ft [48 l]
Cylinder Material: Aluminum - Black Anodized
Pressure Relief: Integrated in Regulator
Regulator Type: Balanced Single Stage
Operational Temp.:-22°F [-30°C] to +158°F [+70°C]
Altitude Limits:Tested at up to 35,000' (10,500 m)
Air Supply: 32 breaths - Approximate, at surface. Based on 1.5 liter breath size
The HEED 3 cylinder is rated DOT 3-AL 3000
The Cylinder needs to be hydrostatically tested every five years