Runway Lights (Portable six pack (White)
S4GA introduces Portable Airfield Lighting Kit (PALK) for runways and helipads. The product itself is reliable and complies with ICAO Annex 14 and FAA technical requirements.
£3,751.00
(
£3,125.83
)
This autonomous and certified lighting is designed to start night operations practically anywhere.

The basic element of PALK is rigid SP-102 lighting unit. PALK includes
1 pc Protective casing with shock-absorbent foam
6 pcs SP-102 Runway Edge Lights
1 pc Protective casing for Grass stakes and charging station
6 pcs mounting stakes for grass
1 pc OCT-102 charging station


6 Pcs mounting stakes for Concrete (Optional Extra)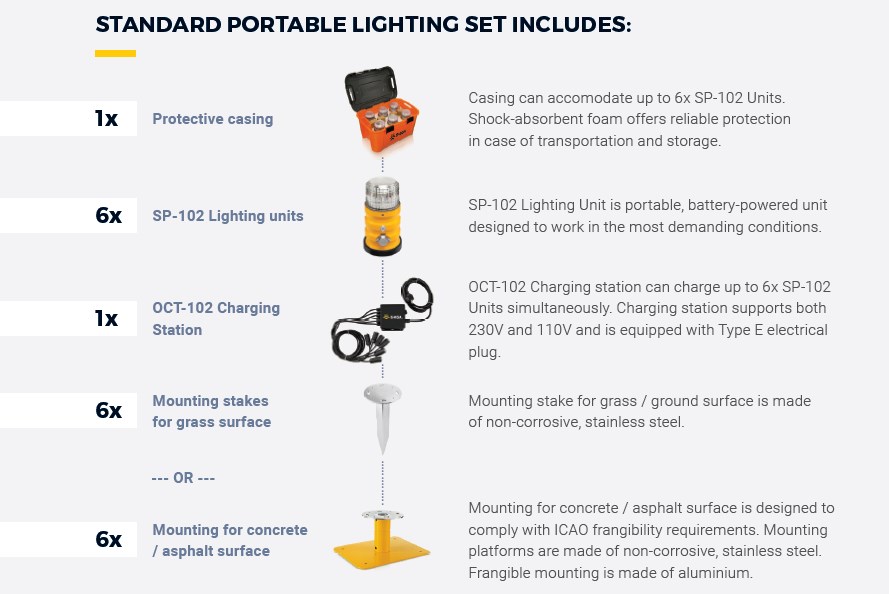 PALK is designed to illuminate runways in compliance with International Civil Aviation Organization (ICAO).

SP-102 lighting unit key features
Adjustable intensity level (low/medium/high intensity)
Multiple operating modes
Quick & Easy Deployment
Non-corrosive aluminium body
IP-65 waterproof rating
User-replaceable battery
Interchangeable optical head
Optional mounting stake allows to easily fix SP-102 unit to any type of surface (including tarmac, grass, asphalt or concrete). Durable mounting stake is made of high-quality non-corrosive, galvanized stainless steel. Mounting for concrete complies with ICOA frangibility requirements.

PALK can be easily turned into semi-permanent system by upgrading it to 100% autonomous Solar-Powered version.
Please allow a 6 week lead time for delivery.