Sporty's Flight Gear HP Bi-Fold Kneeboard
The perfect compromise of size and organisation
This compact kneeboard has room for the essentials, but won't take up much space in the cockpit or flight bag. The Flight Gear HP Bi-Fold Kneeboard provides a solid writing surface and space for commonly used items, like checklists, nav logs, and charts. Plus, elastic straps are attached at the corners and are perfectly spaced for holding an iPad mini
£28.00
Features:
Sturdy, reversible clipboard - use kneeboard on either leg
One zippered storage compartment
Two flat pockets
Accepts Sporty's Gear Mods
One pen loop
Padded back
Elastic leg strap
Customize your kneeboard with Gear Mods
The side flap of Sporty's Flight Gear HP Bi-Fold Kneeboard is constructed with a soft felt material. This allows you to attach Gear mods, perfect for adding additional storage pockets as needed. Or, put Velcro® on your favorite in-flight accessory for quick access.
Convenient clipboard
Clipboard is printed with quick reference placard information, including basic VFR weather minimums, mandatory IFR reports, airport traffic light signals, flight plan sequence, ICAO phonetic alphabet with Morse Code, transponder codes, emergency engine checklist and cruising altitudes. Clipboard is reversible so the kneeboard can be oriented in either direction on either leg.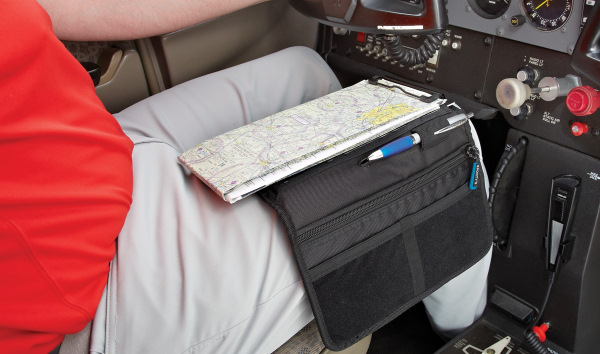 Exterior has an ID slot and chart pocket. Special slot allows you to fold the right flap underneath the kneeboard when not in use. Measures 14.5" x 10" open; 7.5" x 10" closed.