LightSpeed Zulu 3 Headset- Helicopter - Bluetooth - U174 Plug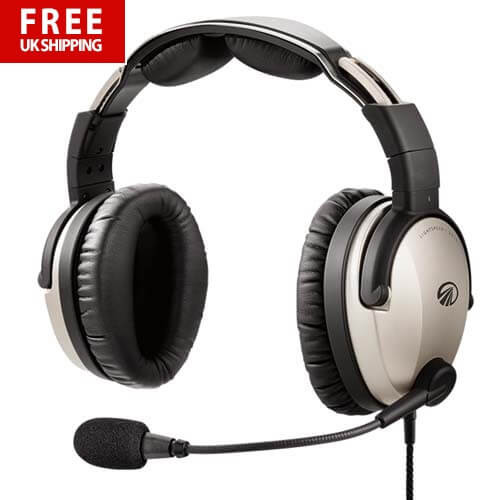 LightSpeed Zulu 3 Headset- Helicopter - Bluetooth - U174 Plug
The most comfortable, most durable headset Lightspeed has ever made.
£845.00
More comfortable
Performance ear seals are tapered to provide a more natural fitt, for greater comfort and stability.
Plush ear seals provide 20% more surface area than competitors, for a better seal around glasses frames and a more comfortable distribution of side pressure
Larger cup cavity provides 50% more space for your ears, allowing the entire ear to fit comfortably inside, while preventing the pain caused by seals pressing against the edge of the ear
Low-pro le stainless steel headband follows the curve of the head for more comfortable distribution of weight and side pressure
More durable
New rugged cables built around a Kevlar core deliver more strength and exibility with less weight than standard cables
Nearly 100% of the headset is made from stainless steel and magnesium
Magnesium ear cups are both strong and light, while delivering superior high-frequency noise attenuation
More clarity
The Dual Aperture Disc microphone provides greater noise cancellation for clearer, more intelligible communications
Exclusive, user-adjustable mic gain helps balance loud and soft voices in a multi-headset environment
Front Row Center (FRC), stereo cross-feed technology, and redesigned speakers deliver crisp, rich audio and unparalleled music delity
Lightspeed performance
Award-winning active noise cancellation (ANR) delivers consistent performance over a deep, broad range of low frequency noise
Zulu 3 is backed by an industry-best 7-year warranty
Bluetooth connectivityEnjoy excellent call clarity, music delity, and wireless accessto critical audio alerts from aviation apps on mobile devices.
FlightLink compatibleCapture and retrieve incoming and outgoing communications with Lightspeed's free FlightLink recording app for the Apple iPad and iPhone via the supplied patch cable.
Cell phone/music connectionAn integrated control box auxiliary input offers an additional option for connecting a cell phone, music player or other audio device.
Auto ShutoLightspeed's proprietary Auto Shuto feature saves battery life byautomatically shutting down the headset power when not in use.
ComPriorityNever miss important radio communications with patented ComPrioritywhich lowers the volume of any auxiliary device automatically during radio or intercom transmissions.
Included
Carrying case
cellphone/music patch cords
cord clips
two AA batteries
foam windscreen.
TECHNICAL SPECIFICATIONSGeneral
Battery power supply: 3V, two AA batteries
Weight: 14.6 oz. (including ear seals and mic boom)
Panel aircraft 8-40 VDC
Headphone
Transducer: 40mm moving coil
Frequency response: 20 Hz-20 kHz
Nominal impedance @ 1 kHz:
OFF Mono: 200 ohms, ON Mono: 280 ohms
OFF Stereo: 400 ohms, ON Stereo: 560 ohms
Microphone
Transducer principle: Noise-canceling electret
Frequency response: 200 Hz-6000 Hz
Maximum SPL: 114 dB
Terminating impedance: 220/2200 ohms
Operating voltage: 8V-16V DC
Bluetooth Enabled Phone - Yes
Bluetooth Streaming Music - Yes